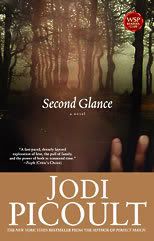 Second Glance by Jodi Picoult

Date Started: 7th Mar 2007
Date Finished: 8th Mar 2007

Rating:



Jodi Picoult is one author who has a knack for writing about the most interesting stories. This one delves into the paranormal when a man who loses his wife tries to find ways to get back to her.

He has tried to commit suicide many times, but somehow he seems invincible. Maybe it's just not his time to go, or maybe there's something else at work. His search for the truth about afterlife leads him to an amazing discovery and impossible relationships.

How many women can a man be in love with at a time? Is he still in love with his dead wife? Can he romance a ghost? Or should he stick to the woman who's still alive?

It's a stimulating read, with a lot to think about, and definitely worth reading. There were a few minor details which bothered me a little as they seem a little far-fetched, like how can he not see that the woman was wearing clothes definitely from another era? It's not a big deal, though, so it doesn't spoil the whole book. But it did distract me a little.

I love Picoult's stories, they are always food for thought. I'm looking forward to reading more of her books.